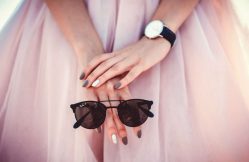 Vagina Tattoos are in fashion?
Wearing a Temporary Tattoo After Shaving your Pubic Hair
OK, so you have shaved your pubic hair, or did a full Brazilian wax – what is next? Well, I would say, wear a sexy tattoo above the V.  Wait, I am talking about a temporary vagina tattoo, not one where they poke your love mound with needles.  With a new artistic look you are basically inviting your partner for uninhibited cunnilingus and  getting attention where you want it.  A fully shaved or waxed pubic area has become the new normal gender statement particularly in Europe. ; it is appealing; and guys go wild over the shaved look.  The trend started with a few years ago with Vajazzle (see the video with Jennifer Hewitt)  but artist mounir mounir has made it simpler with new temporary tattoo designs that do not look like your ordinary standard tattoos.  See what Jennifer Love Hewitt is saying about her attention to her love mound!
Beautiful Jennifer Love Hewitt dressed her pubic area after her Brazilian wax.  Just look at how George Lopez goes down on his knees – so would any man, in my opinion! Men have it in their DNA to want to see pussy, and they will drop down and worship if you have it tastefully adorned.
Seriously, whether you Vajazzle or wear a brazilianplus temporary vagina tattoo,  you will attract attention where you want it. I think it is up to you.  Both options are beautiful.   If you do not want to spend that much money, but still want the look, you save money by your shaving pubic hair and adding a temporary vagina tattoo. Brazilian Plus has very tasteful designs.  They are easy to apply, water resistant, and long lasting. This means you can have the look for up to two weeks at a time.