Alhambra Palace. Temporary Vagina Tattoo.
$17.95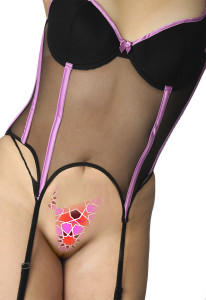 Your Shaved Pubic area must be dry and free of oils
Use small scissors and cut neatly around the image of the Temporary Tattoo
Position Tattoo on your clean and shaved pubic area just above your clitoris – do not cover the vagina lips
Use slightly wet washcloth ready- not too wet. Use the palm of your hand and press the tattoo evenly on your skin – the image must be facing your skin. Press for 30 Seconds
Carefully gently peel away the paper. The Tattoo will be transferred to your skin
Our temporary Tattoos come with full instructions
Save
Save
Description
From Grenada Southern Spain, the land of Flamenco music, passionate love making, and chivalry.  Alhmabra Vattoo is my own signed piece of pinks and reds geometric design taken from wall frescoes in the Alhambra Palace, a world heritage site. Own a piece of this fresco, and turn your love mound into a true wonder!!
Our temporary tattoos (Vattoos) are made to interlace with your skin to give a more natural look.  Your skin will show through what appears as white on the Vattoo image on the left
Best Temporary Tattoo Application: After applying your temporary tattoo, rinse the image with water and then fully pat dry. After you are fully dry, use a large makeup brush and stroke over the Tattoo with translucent makeup powder.
Water Proof:   Our Tattoos are water proof. You can shower, go swimming, and make love normally. They will last looking good for about two weeks.
To Remove:  If you wish to remove your Tattoo early, use a cotton ball and baby oil and rub over the image gently
Safety: Our Tattoos are made in the USA by TMI of Tucson, Arizona. TMI puts out 7 million temporary tattoo images daily with an excellent safety record. Tattoos do not contain Black Henna or PPD. All colors are FDA approved. Should you develop skin irritation, remove Tattoo with baby oil as instructed.
Only logged in customers who have purchased this product may leave a review.